What? Why?
Unless you're dropping in to see if I am hiding in books all day, MS is the reason you are dwelling on this page. If so, I am sorry to hear you are in a loveless affair as devious as multiple sclerosis.
This website is a mix of personal experiences and general information about MS to fill the gap left by websites filled with difficult medical jargon.
By accentuating hard, funny or intense moments that come with the diagnosis of a chronic, neurodegenerative illness, I hope to help change people's perception about invisible illnesses like MS.
Hopefully we will connect somehow to share its burden and be an inspiration for each other. After all, Ireland, Multiple Sclerosis & Me was created to do just that: trying to make some sense of all this nonsense.
©Willeke Van Eeckhoutte and Ireland, Multiple Sclerosis and Me, 2011-2017
Looking for something specific?
Archives
Twitter Highlight!
Scan the QR Code with your camera to follow via Twitter!
Awards & Nominations
Finalist for the 3rd time in 5 years!
Looking for clinical trials?
Brain health: a guide for people with MS
Understanding Trigeminal Neuralgia
Trigeminal Neuralgia Day 7th October 2017
Neuroscience Ireland
Book Review – Trevis Gleason's Chef Interrupted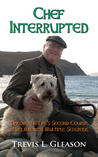 CHEF INTERRUPTED: Discovering Life's Second Course in Ireland with Multiple Sclerosis by Trevis L. Gleason
My rating: 5 of 5 stars
The book is as engaging as Trevis is in real life, and a must-read for anyone with MS. Yes, life was interrupted by his diagnosis, but Trevis manages to squeeze every bit of life out of the good as well as the bad days. Laced with recipes, daily Irish events about dogs and how to life to the fullest, I can only recommend this book to anyone who's looking for some inspiration and motivation to keep going. #TrevisGleason #ChefInterrupted #multiplesclerosis #Ireland
Disclaimer
DISCLAIMER: The information in this site is for educational purposes only. It should not be used as a substitute for personal care by a licensed physician. Please see your doctor for diagnosis and treatment of any concerning symptoms or medical condition.
Copyright
Ireland, Multiple Sclerosis & Me
by
Willeke Van Eeckhoutte
is licensed under a
Creative Commons Attribution-NonCommercial-ShareAlike 4.0 International License
.
Permissions beyond the scope of this license may be available at
https://wiki.creativecommons.org/wiki/CCPlus
.