Finalist for the 3rd time in 5 years!
Looking for something specific?
Archives
Awards & Nominations
Twitter Highlight!
Celebrating 30 years of the MS Readathon!
Looking for clinical trials?
Brain health: a guide for people with MS
Understanding Trigeminal Neuralgia
Neuroscience Ireland
Clostridium Difficile Infection Awareness
Why advocacy & lobbying?
Book Review – Trevis Gleason's Chef Interrupted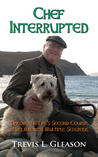 CHEF INTERRUPTED: Discovering Life's Second Course in Ireland with Multiple Sclerosis by Trevis L. Gleason
My rating: 5 of 5 stars
The book is as engaging as Trevis is in real life, and a must-read for anyone with MS. Yes, life was interrupted by his diagnosis, but Trevis manages to squeeze every bit of life out of the good as well as the bad days. Laced with recipes, daily Irish events about dogs and how to life to the fullest, I can only recommend this book to anyone who's looking for some inspiration and motivation to keep going. #TrevisGleason #ChefInterrupted #multiplesclerosis #Ireland
What I'm reading…
Disclaimer
DISCLAIMER: The information in this site is for educational purposes only. It should not be used as a substitute for personal care by a licensed physician. Please see your doctor for diagnosis and treatment of any concerning symptoms or medical condition.
Copyright
Ireland, Multiple Sclerosis & Me
by
Willeke Van Eeckhoutte
is licensed under a
Creative Commons Attribution-NonCommercial-ShareAlike 4.0 International License
.
Permissions beyond the scope of this license may be available at
https://wiki.creativecommons.org/wiki/CCPlus
.